Welcome to StatML
StatML is a Centre for Doctoral Training (CDT) based at Imperial and Oxford.
The Modern Statistics and Statistical Machine Learning CDT is a four-year PhD/DPhil research programme (or longer if studying part-time). It trains the next generation of researchers in statistics and statistical machine learning, who will develop widely-applicable novel methodology and theory and create application-specific methods, leading to breakthroughs in real-world problems in government, medicine, industry and science.
The CDT provides students with training in both cutting-edge research methodologies and the development of business and transferable skills – essential elements required by employers in industry and business.
Each student undertakes a significant, challenging and original research project, leading to the award of a PhD/DPhil.
The studentships are fully funded for the four years and come with a generous allowance for travel, equipment and research costs.   
Studentships are open to all nationalities and we are particularly keen to receive applications from women, minority groups and members of other groups that are underrepresented in technology. Applicants in possession of other funding scholarships or industry funding are also welcome to apply – please provide details of your funding source on your application.
We would like to receive applications from individuals who hold (or expect to receive) a masters level degree (or equivalent) in mathematics, statistics, physics, computer science, engineering, or in a closely related subject.
Discover our students' research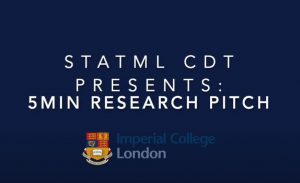 The students' research will focus on the development of applicable modern statistical theory and methods as well as on the underpinnings of statistical machine learning.
Visit the
resources and research
page to get an overview of some of the research our current students are involved in, and view some '5 minute research' videos.
Hear from our students
Find out more about the programme in the videos below.